July 9, 2021
I do love summers. Especially in California where the days are warm and the nights are cool, with no rain to dampen your outdoor plans, literally or figuratively.
That no-rain part is a double-edged sword, though.
If you know anything about what has been happening in California–and for that matter in the Western United States–during summers of recent past, you'll know why. Summer is becoming one long fire season.
When I shared the cartoon above a couple of days ago, a good friend of mine indicated that summer is not a reason for her to display exuberance like the guy above. With these raging fires doing damage around us and possibly threatening our home and other possessions, I should probably temper my exuberance too.
But I can't bring myself to do that, yet.
A reason to rejoice in summertime
A big part of my exuberance comes from the plants in my garden. You may recall reading about how I was spurred into taking action regarding my garden this year.
As soon as that issue went out, reality reasserted itself and saner heads prevailed. It was too early to go shopping because we were not yet properly immunized with COVID vaccination at that time. I wouldn't go plant shopping for a couple of months hence.
Nevertheless, I did start the growing season, albeit late, and got some plants going. Let's take a quick look at where we are.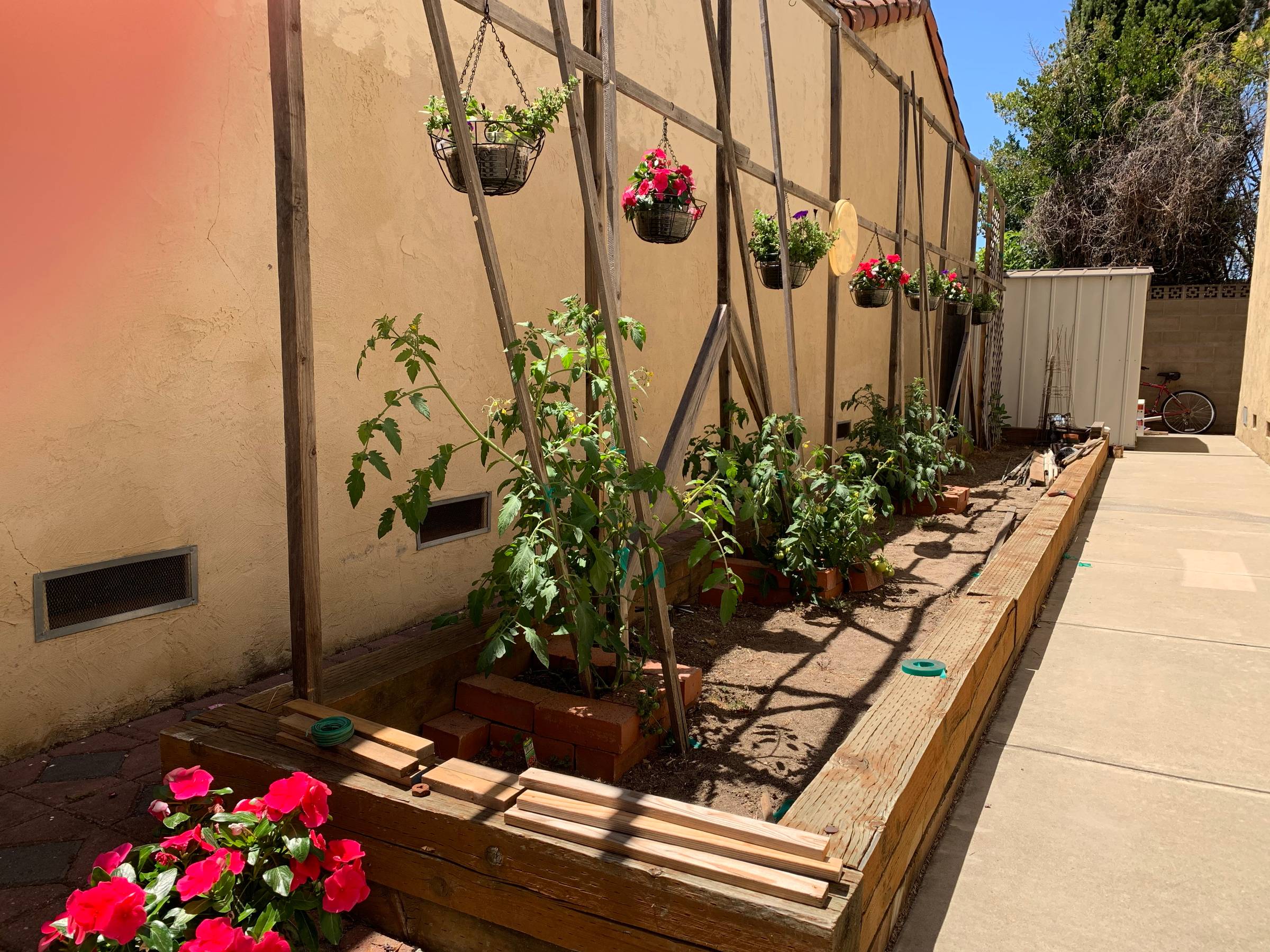 Tomato patch with a few hanging flower pots
The tomato plants love hot weather. And we provide the heat to them: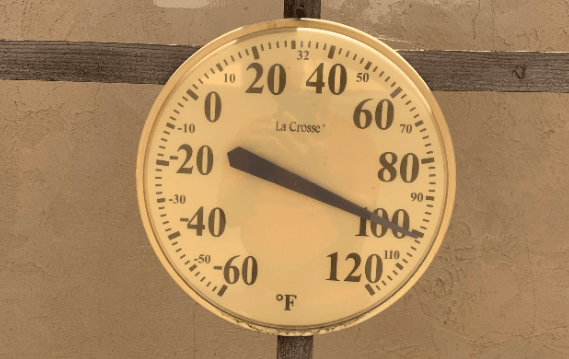 Microclimate just for the tomato plants
Yes, the thermometer does register 100 degrees, but that's generally at least 10 degrees higher than the ambient air temperature because the tomato patch is in the planter that sits between the walls of adjoining houses. The walls help to reflect the sun's heat and keep the microclimate in the patch to be what the tomatoes like.
But I wonder what the additional heat does to the vincas and the petunias. The vincas are apparently happy, throwing in the splash of pink in the area. The petunias were happily offering their purple just a few days ago but it looks like they are rethinking the additional heat that July has brought.
Talking of heat …
We like the heat of a different kind too: Peppers. It's hard to do justice to all the different kinds of peppers we can plant, but here's a look at what we have:

Habanero and Jalapeno plants taking root
In this patch, we used to have Thai pepper and Cayenne pepper, in addition to a Jalapeno pepper plant that had survived for many years. They died out due to neglect of sorts and I decided to clean out the patch and restart.
In this v2 rendition, I am trying companion plants of like kind. So, we have two Habanero and two Jalapeno plants. I am sure that's going to be overkill and I need to find connoisseurs willing to take excess produce. But it feels good to try it.
Who knows, I may add some other variety to the mix as well. We'll see.
100-day creativity project
Very recently, I came to know about the tradition of a 100-day creativity project. The idea is simple. You do something creative each day. At least one. And you do this for 100 consecutive days. That's it.
I just started on this project on July 1. My choice of creativity is cartooning. So, I have committed to producing a cartoon each day from July 1 for 100 days. And hopefully continue the momentum afterward.
To discourage me from slacking off or giving up on it, I am sharing the creations as they happen. It started with a buddy as my accountability partner who is also pursuing her own 100-day project, but I have now created a Facebook album to let the world know about my meager contribution to art.
The featured image at the beginning of this newsletter edition is from this collection.
The idea is that practice makes perfect and this daily regimen will help me solidify this skill over time.
If you do something similar and want to share please reply and let me know. Perhaps we can get into an accountability relationship too.
In pursuit of better creations while enjoying summer,
P. Venkat Raman
P.S. If you are interested in additional info on any of these 100-day project creations, you may want to check out my website here. Some of the cartoons may have stories associated with them, or at least a master version I was trying to emulate. These may be of additional interest.
If you enjoyed reading this issue …
Please consider forwarding this email to someone who may appreciate the writing as you have. I'd love to spread the wealth!
If you got this issue from someone as a forwarded email …
If you are not already a subscriber, may I ask you to consider subscribing? Subscription is free and you can unsubscribe any time.