August 20, 2021
It was almost to the day 27 years ago when we moved to California. All these years, we had our eye on Kings Canyon/Sequoia National Park as one of the places to visit. We had made plans to make this trip several times. We even made reservations once that we ended up cancelling.
Finally, just this past weekend, on Friday the 13th, Praveena and I stood on top of Moro Rock in Sequoia National Park. The panorama from there was breathtaking. The image below hardly does justice to it.
In the Hi-Res version you can see Generals Highway on the right. That is the main artery that connects Kings Canyon to the southern entry point of the Sequoia National Park, winding through the mountainside.
Our plans to visit Kings Canyon and Sequoia National Parks was part of our larger project of visiting all the national parks of the US. We have visited 31 of them so far. Yosemite was the first California park that we have visited (multiple times) and it so happens that Kings Canyon/Sequoia is technically the last of our coverage of National Parks in the state. [Just technically, because we have only set foot in the mainland part of the Channel Islands National Park; still need to visit the islands.]
Back to Moro Rock, the sight of it from its base was imposing and made us wonder how we were going to climb to the top. But a carefully laid out series of steps that snaked its way up made it a cinch. The climb up Devil's Lake State Park in Wisconsin just a few days ago was a lot more challenging.
Van Camping
Ours was a two-day trip that involved van camping. We didn't plan on doing any cooking at the camp site, so our materials list was quite lean. We like this way of staying in national parks as it allows you to "sleep under the stars" with the least inconvenience. Not doing any cooking meant that we didn't have to worry about attracting bears and also use the time efficiently in visiting places within the parks. But it did mean that we needed to rely on the restaurant for our food.
This was a quick two-day trip and since we treated it as reconnaissance, we limited ourselves to the notable, popular, landmarks for the most part.
Masking and Sanitizing
Being in the COVID-19 environment, we tried to avoid crowds as much as we could. Even so, we were a little concerned about exposure.
Mask compliance was varied. Staff of any establishment–restaurant, gift shop, visitor center, etc–were diligent in their use of masks, but visitors' compliance was hit or miss.
It was interesting to see the empathy of some of the travelers who offered hand sanitizers for us to use! In one instance, I helped a gentleman from Florida with a picture of his whole family with him in it. Since i touched his phone for this, he offered sanitizer to cleanse myself, just in case.
The other instance was even more endearing. A lady who had seen us on the Moro Rock trail earlier offered her sanitizer out of the blue when she spotted us walking past her car at the end of that hike!
Unexpected education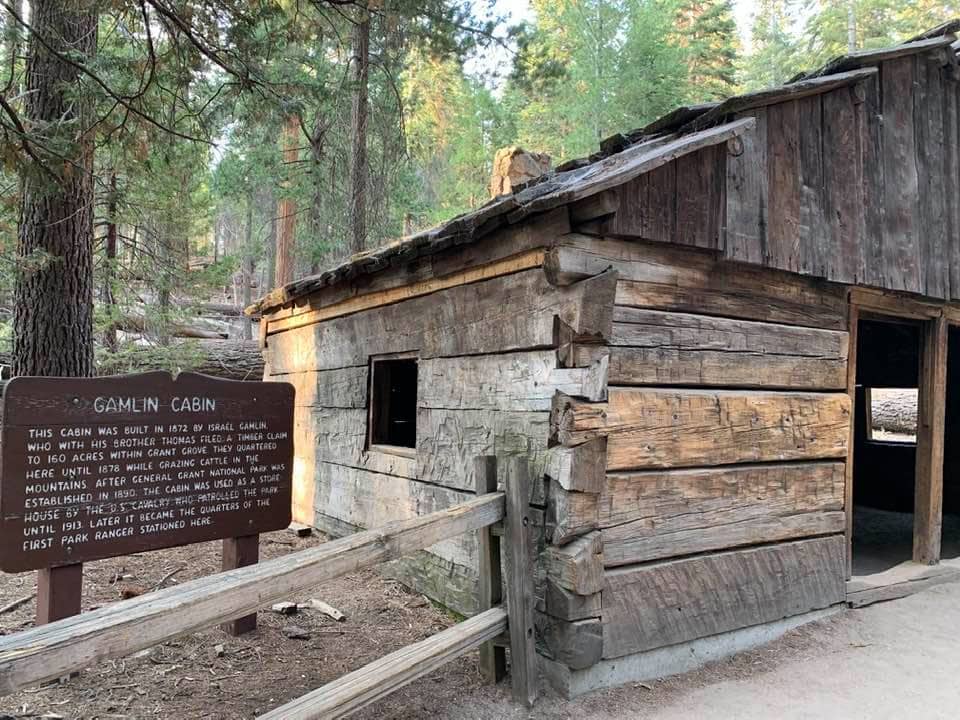 Gamlin Cabin in KCNP, originally named General Grant NP
I learned something at the Gamlin Cabin: Kings Canyon NP was originally established in 1890 and was named General Grant National Park! At that time, the park was limited to what is the Grant Grove section of today's park. Only when it was expanded in 1940 to include the additional acreage did the name change to Kings Canyon.
Centennial Stump is a sad reminder of how a perfectly healthy tree was chopped down and cut into sections to be shipped to Philadelphia to show off California's tall trees in the Centennial Exhibition of 1876. Worse, easterners could not believe a tree could be that tall and rejected it as California Hoax!
Wonky Sherman Tree
You never know when you learn something new. When I was admiring the General Sherman Tree in Sequoia NP, I saw someone taking a vertical panorama shot to actually capture the entire height of the tree without resorting to an upward looking angle like usually done.
Of course, I wanted to try that immediately. Look at what I got with my 'technique'! On the left is the Wonky Sherman Tree and on the right, after a little practice, is another tree nearby.
Roaring River falls
A two-day trip like ours is just enough to whet our appetite to explore more. We have seen and experienced hardly a small sliver of what's there to enjoy. But even a two-day visit garners enough of varied experiences that it takes more than one telling to cover them.
You can expect me to touch upon more perspectives of our discovery in future issues of the newsletter. But I want to close with a captivating scene that we came upon at the tail end of our trip."There is one thundering plunge into a dark pool beneath a glorious mass of rainbow spray" — John Muir describing Roaring River Falls
Visiting in August, we were at a disadvantage. Most of the season's water had already flown through. The rivers are not as full in August as they would have been in May/June. The thunder of the plunge was weak. No rainbow spray.
Yet there was a character to the Roaring River Falls. Water was more contained, less unruly. And there was a good volume. Enough to frame a beautiful picture of it feeding the pool below.
For some reason, I was reminded of Gollum in the Forbidden Pool when I saw this scene. Let me know what thoughts are kindled in your mind!
To enjoying nature,
P. Venkat Raman
If you enjoyed reading this issue …
Please consider forwarding this email to someone who may appreciate the writing as you have. I'd love to spread the wealth!
If you got this issue from someone as a forwarded email …
If you are not already a subscriber, may I ask you to consider subscribing? Subscription is free and you can unsubscribe any time.