May 5, 2021
I feel so lucky to be alive.
This happened about four years ago and the memory is still so vivid!
All I did was take a few snapshots of her cute little kids who were frolicking.
Perhaps she thought I should have asked her permission first.
True, I had not been prepared with a photo release form.
Somehow, I feel that trying to get her to sign that form would have been unwise anyway. I am sure I wouldn't have been able tell you this story in that case.
A quiet retreat sounded like a prudent action. Who wants to confront an angry mama bear!
Indeed, this wake up call to my good fortune happened in the Glacier National Park.
It was August 2017 and we were moving our son to Minneapolis from the Bay Area. Glacier National Park is really not on the way, but we made it so by defining our route.
We were happily taking the Avalanche Lake trail, wanting to reach the Avalanche Lake, quietly surrounded by mountains all around.
As we were walking along, fairly close to the trailhead, there was a hushed commotion, with most hikers stopped to train their eyes on something of interest.
Through the gaps between trees, we spotted a bear cub climbing up and down one of the trees. We loved it, but couldn't get a great angle on the frolicking cub.
So we went ahead a few yards where the trail swung a little and offered a great angle on not one but two cubs getting their morning exercise.
Not only were they undaunted, they showed such an ease with their up-and-down fun, I was mesmerized by the view.
I whipped out my camera and started shooting a few pictures. I was congratulating myself on my photography when our wise son spoke:
"I think we need to move. Where there are cubs, there's sure to be a mother."
A quick round of checking reminded us that we need to keep about 100 yards between ourselves and a bear to not threaten it.
For a mother bear with two cubs, who knows what a safe distance would be!
We estimated we were probably around 100 feet away. Ouch!
That's when I actually spotted the mama bear. Don't you think she has her eyes trained on me?
A quick snapshot later, we decided to continue to the lake.
Thankfully, the mama didn't charge us! That was a good thing because we didn't have bear spray or any other defense than a singing voice.
I've heard that if you talk or sing to a bear, you can keep it curious and at bay.
I can't remember if that was for a black bear or a grizzly. Either way, I was in no mood to try it out.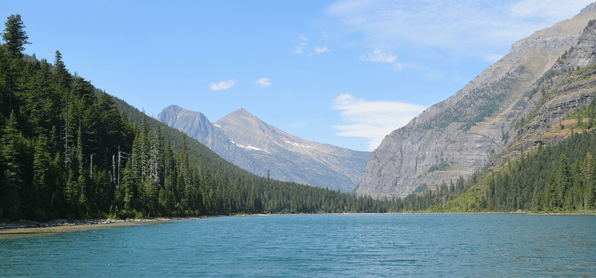 Avalanche Lake in Glacier National Park
The lake was beautiful.
HAVE A WONDERFUL MOTHER'S DAY!!
P. Venkat Raman
BEFORE YOU GO …
If you enjoyed reading this issue …
Please consider forwarding this email to someone who may appreciate the writing as you have. I'd love to spread the wealth!
If you got this issue from someone as a forwarded email …
If you are not already a subscriber, may I ask you to consider subscribing? Subscription is free and you can unsubscribe any time.