August 13, 2021
My friend was passing blood in his urine. This happened just a few days ago.
The trouble was that he was on the remote Pacific Crest Trail, far away from civilization and with no one in sight to help him.
With all the modern technology in this world and medical advances that could help him out, he was helpless, and was wondering if that was going to be it for him.
My friend's predicament reminded me of another man who faced a dire situation, hopelessly remote in location, surrounded by people who were not qualified to help him, and facing the same mortal fear of his destiny.
The year was 1961 and Leonid Rogozov was the only surgeon in the team of 12 on a Soviet Antarctic Expedition on a mission to build a new base in the icy southern continent.
After the base was successfully built in February, the team was waiting for the ship to pick them up for their return trip to Russia. In April, Rogozov developed an appendicitis, inflammation of the appendix.
Removal of the inflamed appendix is a fairly routine operation in the civilized world with proper medical facilities, but Rogozov was in a hostile territory and more importantly, with no medical staff to perform this surgery on him.
As an experienced surgeon, Rogozov had no difficulty diagnosing his condition. That was no solace, however. Appendectomy typically needs to be done within hours of diagnosis of the need. His situation was dire.
With the ship for his return trip not due until the following year, and the trip back taking 36 days to get back to Russia, help from his country was out of the question. Rogozov's options were limited.
They were so limited that he had to choose between two unthinkable options: Wait for the appendix to burst and die, or perform an appendectomy on himself. Remember, there was no other medical staff on the team.
Self-appendectomy was the inevitable choice. Rogozov was to open his own abdomen and take his intestine out, so to speak!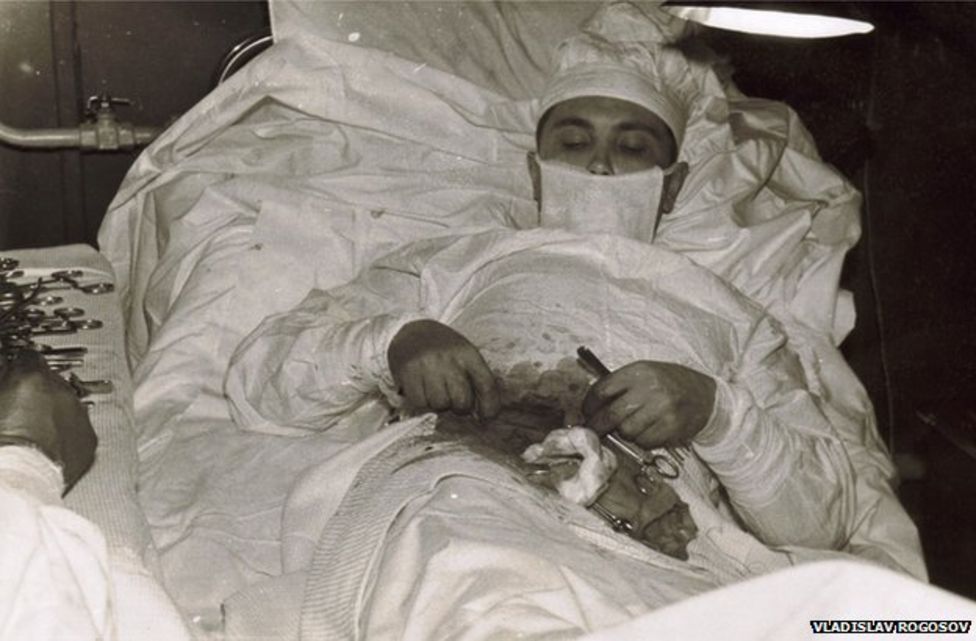 Rogozov performing appendectomy on himself (Image courtesy BBC)
With incredible preparation of the non-medical personnel to assist him during the surgery, Rogozov proceeded to perform the operation using just local anesthesia, bare hands, and by feel rather than sight and completed it successfully.
There was even an injury during the operation which he needed to remedy and improvise to maintain consciousness through the procedure to achieve his eventual success.
Rogozov was the first to achieve this feat; self-appendectomy had never been attempted before.
The appendix that Rogozov removed had a dark stain at its base, implying that in another day it would have burst!
Thankfully, my friend on the Pacific Crest Trail did not have to resort to drastic measures like Rogozov and had received help eventually to avoid dire consequences.
To remaining strong in adversity,
P. Venkat Raman
P.S. For a more detailed account of Leonid Rogozov's predicament and accomplishment, please check this BBC article.
If you enjoyed reading this issue …
Please consider forwarding this email to someone who may appreciate the writing as you have. I'd love to spread the wealth!
If you got this issue from someone as a forwarded email …
If you are not already a subscriber, may I ask you to consider subscribing? Subscription is free and you can unsubscribe any time.