March 3, 2021
Immediately check if you are in Lancaster, California. Why? We'll get to it shortly.
First, consider this question: What's common among China, Denmark, Hungary, Indonesia, Japan, Netherlands, South Korea, and United States?
The answer: They have all built special roads that make music. That's right, music that you can enjoy as you drive on them. At least when you are not driving in Lancaster.
Specific technologies vary, but they all use a way to make the tires of your auto make sounds much like what happens when you drift over rumble strips that wake you up on highways. By controlling the spacing between cuts or other devices of disturbance, the sounds emanated can be controlled to make music.
Denmark seems to have pioneered this idea way back in 1995. Other countries have followed suit.
A common theme among these installations is that local residents near such musical roads are driven nuts by all that sound and cause these to be paved over or moved.
Japan seems to have found the key to making it work, installing permanent fixtures of this kind on multiple roads. There were as many as 30 musical motorways as of 2016. Apparently, their innovation even extends to providing polyphonic music that provides for melody and harmony parts to be played by the right side and left side wheels as you drive over them.
Then we come to Lancaster, California, where a curious turn of events hijacked a project of this kind. While Japan is a shining example of multiple roads of music, a Japanese Car Company, Honda, faced a different fortune. It had sponsored a marketing project to create the William Tell Overture on a Lancaster road.
The trouble was, it was out of tune.
You can enjoy an entertaining piece by Tom Scott demonstrating the goal vs. reality of that implementation, or dig really deep into a detailed analysis by David Simmons-Duffin, but the reason was simple to explain after all that analysis.
It was miscommunication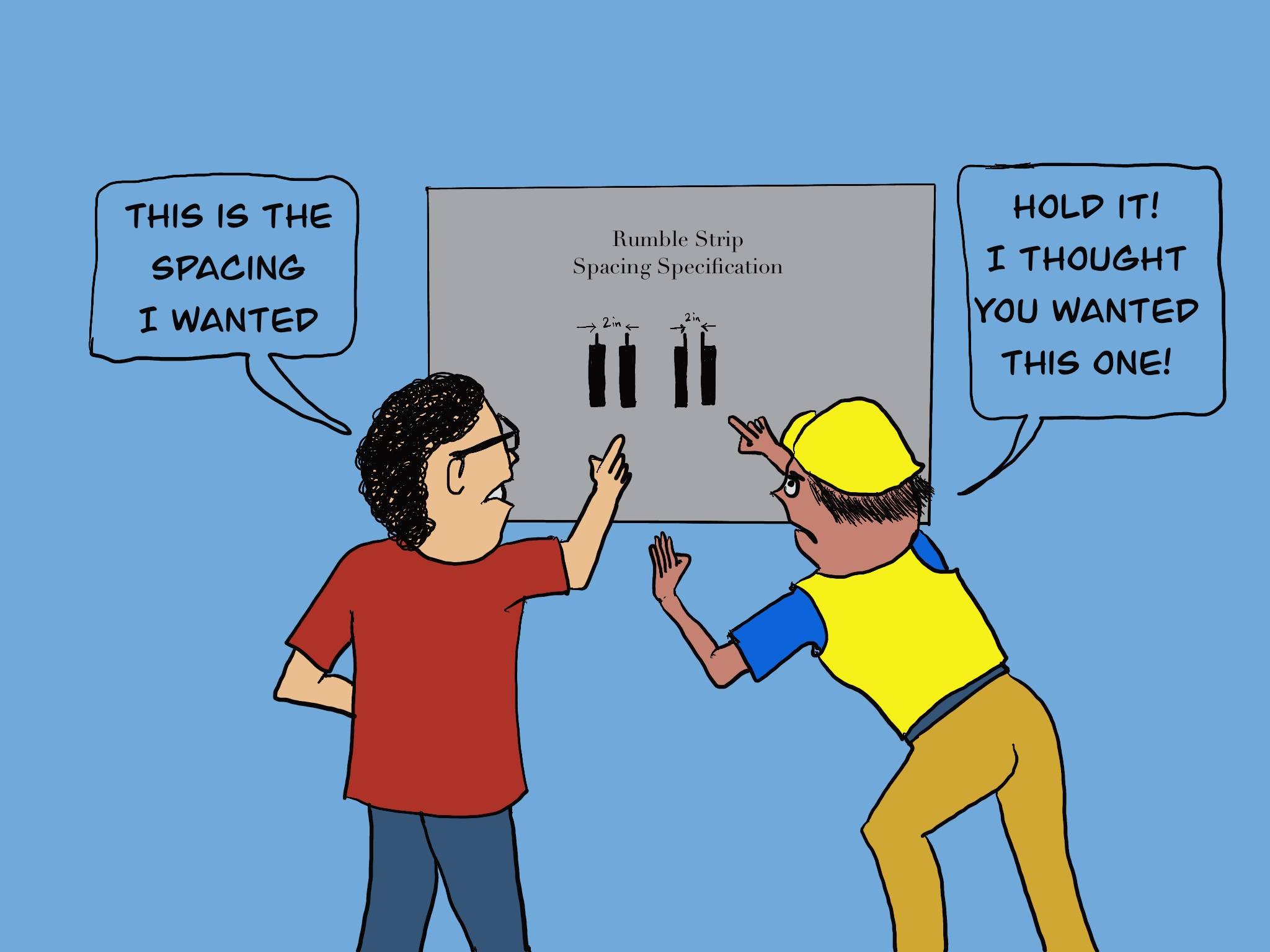 Something fell through the cracks
The engineers created a specification for the spacing of the rumble strip cuts using distances between the centers of the adjoining cuts and the road crew that made cuts measured these to be from one edge of a cut to the nearest edge of the next cut. In effect, the spacing was all ruined. It was such a flop that it elicited a comment on Tom's video that the 'music' was a demonic summoning ritual! Ouch.
Miscommunication is everywhere.
Take an example. Let's say an online offer is expiring on March 6 at midnight. What does this mean?
It may mean that it is still on at 11:59 pm on March 5, but is off when the clock strikes 12:00 midnight on the 6th. Or, it could be a day later, meaning 11:59 on March 6 is still good whereas a minute later is not.
While scientifically speaking, the former is correct, in online commerce the latter is the norm.
There are countless other examples, but a common theme among them is that either the sender didn't send the complete message or the sender and the receiver were using different sets of assumptions in interpreting the same message.
There is another type of miscommunication that arises out of second guessing what others want and, as a result, not communicating one's own opinions truthfully. This type of breakdown in group communication is illustrated by the Abilene Paradox, introduced by Jerry B. Harvey in his 1974 article.
Before I let you go, let me share with you a funny story of miscommunication I encountered recently!
You must have an interesting story or two of miscommunication. Hit reply and email me what you have. I'll feature it in a future issue!
In our never ending quest of keeping miscommunications at bay,
P. Venkat Raman
P.S. If you haven't had a chance to give me feedback regarding the topics that interest you, please do so. Please fill out the interest survey here.
P.P.S. If you have kudos, complaints, or any reaction to any of my emails or articles, please reply and say so. I appreciate knowing about opportunities to improve what I write. Thank you!
BEFORE YOU GO …
If you enjoyed reading this issue …
Please consider forwarding this email to someone who may appreciate the writing as you have. I'd love to spread the wealth!
If you got this issue from someone as a forwarded email …
If you are not already a subscriber, may I ask you to consider subscribing? Subscription is free and you can unsubscribe any time.