April 7, 2021
Don't make lemonade! You don't need all that sugar.
Instead, make lemon pickle! Yes, that's a thing.
Where I come from, South India, lemon pickle is a delicacy. The lemon's tartness, mixed with the right combination of hot chili powder and salt, with optional spices, makes it a divine condiment.
I use lemons from my backyard to make this pickle and I will cover the recipe next week. The lemons in the photo have just been picked. Properly canned, this pickle can be stored at room temperature for months and even years.
The batch of 15 lemons shown above will probably make about four quarts of pickle. Good for many months of consumption. Yum!
From Last Week …
Hope you had a chance to read last week's issue and take part in the questionnaire. If you did, you would have seen the process I took to go from the starting point of interpretation to where I ended up.
In case you are curious, let me add that the initial blob was what looked like a dollop of asphalt on a concrete courtyard, flattened over time, presumably by folks stepping on it. The photo below shows where the blob is. In the photo further down, you see a zoomed in perspective on the blob, and what I saw in it.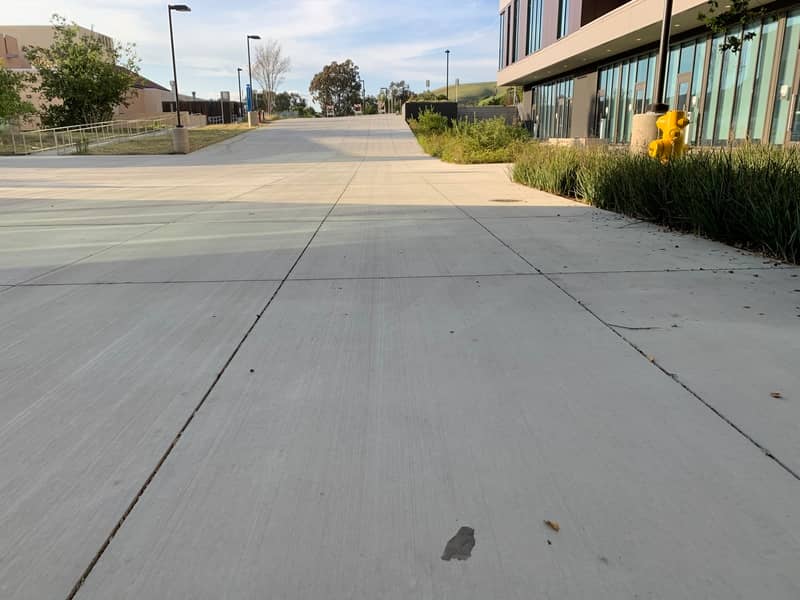 Inconspicuous blotch in the foreground
To be sure, all the respondents gravitated towards it being a bird. Specifics varied. No one spotted the gnat, however!
Here are selected answers to my questionnaire prompts:
Question: What's in this photo?
Answers:
Oil? Melted
A block of wood or cement, maybe.
Tar spot made by some construction worker's hand on a concrete wall
Pavement with a dark stain, perhaps oil that has leaked from a vehicle
Question: What image comes to mind when you look at it?
Answers:
An owl
A bird – a robin.
Back side view of an Owl
A hawk in a rain storm with a tiny branch in her mouth
An inquisitive owl looking up
—————
As you can see, we all have a slightly different take on this. I liked the interpretation of the bird having a tiny branch in her mouth, because I saw it too. But then I didn't take it far as that perspective would have hidden the beak and the eyes.
If your response appears above, thank you! If you didn't have a chance to respond, and you are interested in seeing my process of interpretation, the questionnaire is still up. It's not too late to weigh in. When you submit your response, the link to a seconds-long video will be available.
Days are sprinting by. The next week will be here before you know it. And with it comes the recipe and other fun details about the lemon pickle.
Have a great week!
P. Venkat Raman
BEFORE YOU GO …
If you enjoyed reading this issue …
Please consider forwarding this email to someone who may appreciate the writing as you have. I'd love to spread the wealth!
If you got this issue from someone as a forwarded email …
If you are not already a subscriber, may I ask you to consider subscribing? Subscription is free and you can unsubscribe any time.